Mizzen by Mott announces hiring of Angelina Garner, VP of Strategic Partnerships
Hire points to Mizzen's growth and focus on partnership development as key to its success.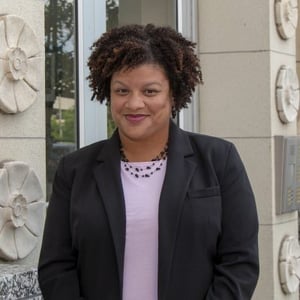 Mizzen by Mott, a project launched by the Charles Stewart Mott Foundation to provide high-quality educational content to the afterschool field, is delighted to announce that Angelina Garner has joined the team as Mizzen's first vice president of strategic partnerships. Through her leadership, Mizzen is expanding its capacity to cultivate partnerships and share innovative resources to support the out-of-school-time field.
Garner joins Mizzen after serving three years as a program officer for the Mott Foundation's Education team. In that role, she managed a grant portfolio of education and out-of-school-time initiatives focused on college and career readiness and program quality.
"I am excited and feel blessed to be part of an innovative team to continue the expansion of Mizzen's partnerships," Garner said. "Our goal is to partner with organizations that strive to create accessible and equitable learning opportunities for children and youth. We want to ensure we cultivate and share engaging learning experiences and resources to support the out-of-school-time and school-day communities as they inspire children, youth and families to grow and thrive in afterschool and summer learning environments."
Garner will oversee Mizzen's external partnership initiatives, aligning stakeholders with strategic priorities to increase brand recognition and grow Mizzen's library of engaging educational resources created by industry leaders. She also will support the growth of state and local programs using Mizzen as a key resource for driving program quality and youth engagement in afterschool.
"Angelina has been involved with the growth and development of the Mizzen app from early on," said Carlos Santini, CEO of Mizzen by Mott. "While serving as a key member of the Education team guiding and managing a diverse portfolio of grantees, she played a critical role in establishing Mizzen as an important tool and resource for afterschool professionals nationwide."
Garner brings to Mizzen a wealth of experience. Prior to joining the Foundation, she designed and implemented research-based practices and out-of-school-time quality-improvement systems for state education agencies and national youth-serving organizations at the Forum for Youth Investment.
Garner will be based out of Ann Arbor, Michigan. Organizations interested in partnering with Mizzen by Mott may contact her at agarner@mizzen.org.