Heading to work in recent weeks, if you looked to the predawn sky, you might have caught the incandescent face of Earth's moon. Or perhaps one night you gazed out toward the mountains, desert, city skyline, or sea and saw moonrise. From time immemorial, our moon has illuminated the heavens, animated the tides and ignited awe.
Fittingly, the moon and its exploration also inspire NASA missions like Artemis and a national movement — Million Girls Moonshot — to expand access to STEM.
During Lights On Afterschool, NASA and Million Girls Moonshot are teaming up with the Afterschool Alliance for a virtual event, featuring a pre-recorded interaction at the International Space Station with astronaut Jessica Watkins and actress Keke Palmer. Afterschool programs can join an exciting discussion about NASA missions and STEM careers.
After the event, keep STEM learning going with these activities in Mizzen. Create your free Mizzen account today!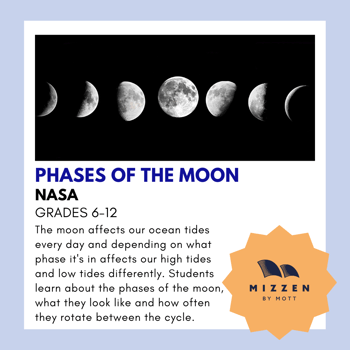 However you celebrate out-of-school-time learning, happy Lights On Afterschool!