Working together to create a seamless learning environment
Q&A with Nefertari "Tari" Jones, program director, YouthQuest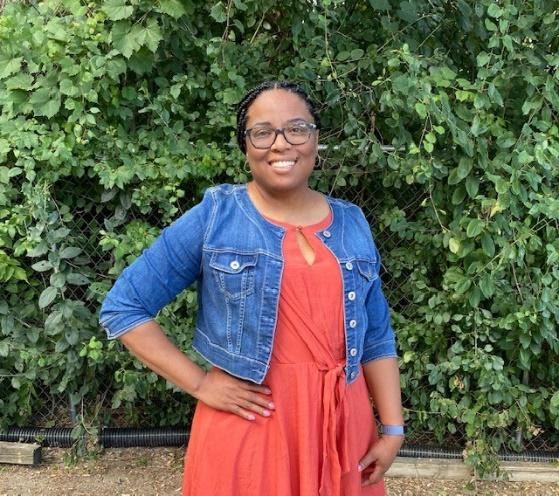 YouthQuest is a research-based afterschool program in Flint, Michigan, offered at no-cost to families, and designed to align with national best practices and standards. YouthQuest is made possible through support from the Mott Foundation to the Genesee Area Focus Fund, a supporting organization of the Flint & Genesee Chamber of Commerce, and federal funding from 21st Century Community Learning Centers grants. During the 2019-20 school year YouthQuest operated in 12 schools, including 11 Flint Community Schools buildings and the International Academy of Flint.
In a conversation with Nefertari "Tari" Jones, almost one year since the pandemic began, we learn how participants, families and staff at YouthQuest are faring; why youth leadership matters more than ever; what new partnerships emerged that hold promise for supporting youth in the recovery; and what concerns her and gives her hope for the future.
Q: Could you tell us more about YouthQuest? How have your programs adapted this past year in response to the pandemic?
YouthQuest is one of six programs housed in the Education and Training Department of the Flint and Genesee Chamber of Commerce (FGCC). FGCC's vision is to help Genesee County thrive by focusing on three pillars: business, through Economic Development and Member Services; place, through the Convention and Visitors Bureau; and talent, through a "cradle to career" approach to workforce development. YouthQuest is considered the entryway to career development.
We provide schools with K-12 afterschool programs that are engaging and educational, and focus on academic support, fitness, enrichment, nutrition, youth leadership and development, and community and family engagement.
Normally by mid-winter we've served about 1,000 kids. Those numbers are currently at about 620. But, given the pandemic, this is far better than anyone expected. We credit our success in remote learning to the creativity and flexibility of our staff who seek to meet students where they are. We provide in-person learning, live virtual sessions, pre-recorded sessions for students who can't join us at the normal time, and interactive learning packets for students who want to unplug after a long day of virtual learning.
Q: How have you and your staff been doing? How are students and families faring?
COVID-19 has had a significant impact on our staff, both negative and positive. Some of our staff have had COVID and many have lost family members and friends. One thing our staff hasn't had to worry about is whether or not they'll still be able to feed their families. Because we've been fortunate to have relatively stable funding, YouthQuest has been able to retain all of our staff and offer a multitude of learning opportunities for youth.
Both of our major funders, the 21st Century Community Learning Centers program and the Mott Foundation have been great partners by allowing us to be flexible in the ways that we support students. One silver lining has been that different organizations like YouthQuest have been able to come together to create a collaborative learning community in Flint. This has strengthened relationships, allowed for the pooling of resources and made virtual programming user-friendly for students.
Though living through a pandemic has been hard, it's given us all the opportunity to focus on what's important and come together as a community.
Q: Is YouthQuest using an in-person, virtual or hybrid model? What's working well; what's not working?
In the last year, YouthQuest has used both a virtual and hybrid model for afterschool programming. We strive to remain in lockstep with the districts we serve. If they're in person, then we're in person. If they are virtual then we are virtual.
What's working well is YouthQuest being included in the "Return to Learn" planning process for the districts that we serve. It's allowed us to better align everything from our academic support to our safety protocols. It also means that we have the information we need to make well-informed decisions rather than knee-jerk reactions.
What's not working as well is getting kids to participate in real-time sessions. Let's face it, we are all burned out with living in a virtual space. Most days kids can't wait to get away from a computer screen which means our attendance for live sessions has been low. We want to do everything we can to keep kids connected in a meaningful way so we offer live sessions, recorded sessions, self-paced learning kits, one-on-one mentoring and sometimes just a phone call to say, "Hello, how are you doing?"
Q: Can you tell us more about some of the new ways that YouthQuest is now partnering with schools — as well as with the community?
YouthQuest and our partners recognized early on that the learning environment was going to have to be altered if we wanted kids fully engaged. You can't just take a full day of school and three hours of afterschool, put it on a virtual platform and expect kids to learn. Flint Community Schools (FCS) reached out to us with an idea of an integrated summer program that would provide a strong foundation in content-based learning, coupled with fun and high engagement. They thought YouthQuest would be the perfect partner for this endeavor. Together we provided FCS Summer Scholars with the opportunity to work with teachers, afterschool staff and community education in one setting.
The kids loved seeing all their supportive adults in one virtual classroom as well as being able to connect with their friends and peers. We offered virtual field trips, mindfulness, nature exploration with The Cranbrook Institute and fitness. FCS, which is on a balanced calendar, was so happy with the success of the integrated summer program that they asked us to do it again during the 20-21 intersessions that focus on remediation for students who are struggling.
Q: YouthQuest is known for its focus on empowering youth leadership. What is underway this year?
Youth voice has always been a priority for the YouthQuest program. With the fight for social justice, COVID and a controversial election season, it became especially important to give students a safe and supportive space that allowed their voices to be heard.
Students at YouthQuest have been empowered through activities like YQ Biz that give young entrepreneurs the opportunity to problem solve by creating products or services that highlight issues or causes that are important to them, like youth mental health, healthy eating and self-empowerment. Five of our high school students won district awards for youth entrepreneurship through the Genesee Intermediate School District's Countywide Pitch Competition and two were finalists at the county level. Each school also has a Youth Advisory Council that helps to plan programming and community events. This year we've added students to our YouthQuest Advisory Committee so that the adults in the community can hear firsthand what students see as a priority.
YouthQuest students have also had the opportunity to help facilitate chats and webinars. At YouthQuest we firmly believe that by focusing on youth voice and youth leadership, we will be able to help today's students to grow into tomorrow's leaders.
Q: How are you and your team using the Mizzen by Mott app?
Our staff use the Mizzen by Mott app in a number of ways. Having tools like the Mizzen app at our fingertips has given our staff access to high-quality activities that can be adjusted to work in our virtual or in-person sessions. The art and social and emotional learning (SEL) activities have been especially helpful in giving our staff a way to offer students a creative outlet and in helping students process their emotions during this difficult time.
Our staff also love the tips and strategies offered by Mizzen. It's especially beneficial for new staff who are still trying to become proficient at classroom management.
YouthQuest is also proud to be a content partner for the app, and we've sought to select our favorite science, technology, engineering and math (STEAM), SEL, and team-building activities that students find engaging, and that work for kids across a wide range of grade levels.
Q: How are you and your staff finding ways to refuel your own energies?
As educators we realize that you can't pour out of an empty vessel. Taking time to recharge is often easier said than done. We've made sure our staff had the time to focus on self-care by providing professional development on mindfulness and by giving them space to share their concerns and stressors through periodic "pulse" surveys. We try to open every meeting with an activity that offers space to inspire, motivate or share the positive things in our lives.
Last May, we realized that it would help not only our own staff but other local out-of-school time professionals to offer a self-care workshop that focused on recognizing your own emotional needs, along with building the emotional capacity to help students. Providing a supportive working environment has helped our organization to find stability in unstable times.
Q: What are some of the lessons you take from 2020? What most concerns you now? What gives you hope?
There have been a lot of lessons learned both professionally as well as personally, but I think what sticks out the most is the huge impact that effective collaboration between school districts, nonprofits and community organizations can have on student success.
Prior to COVID-19, we had a shared mission of supporting student success, but our visions were being carried out in a very siloed manner. Because of the shared monumental challenge that the pandemic presented, we were able to come together and create a seamless supportive learning environment that has helped not only the students but their families as well. From technology distribution and food giveaways to parent chats and student forums, working together, we were able to make a difficult time a little less scary for everyone.
What concerns me the most is whether or not this country is prepared to deal with the trauma that COVID, a volatile political climate and social inequities will have on our society.
What gives me the most hope is the enormous capacity for unconditional love and compassion that has been shown in the most unexpected ways. It tells me that there is more that unites us as a country than what divides us.
---
YouthQuest's activities in Mizzen by Mott include "Aluminum Boats and the Edmund Fitzgerald," which earned a 5-star rating and made Mizzen's Top 20 List of 2020, and "Plant Parts We Eat" and "Sticks and Stones," which also earned 5-star ratings. YouthQuest has also contributed arts, STEM, civil rights, youth leadership and SEL activities to the app, including: "I have a dream: MLK and Civil Rights;" "Alexander Calder Mobiles;" "Creative Life Tessellation Paintings;" "Building 3-D Sandwiches;" and "Graffiti Illusions."