Lace up your boots and fire up your curiosity! Mizzen by Mott and The Nature Conservancy are thrilled to announce a new strategic partnership to offer interactive conservation education from TNC's Nature Lab to out-of-school time practitioners across the U.S. through the Mizzen platform. At no cost.
From the tiniest bees to the immensity of the seas, this new content will inspire young people to connect more deeply to nature, their community, and their capacity to bring about a more sustainable future.
Rooted in science and celebrating the wonder of nature, this standards-aligned educational content will bring conservation stories, nearby and faraway places, and STEM learning, to life. It draws on the experience of more than 400 TNC scientists around the globe to help young people learn about the science behind nature wherever they live — and what they can do to help their communities and natural ecosystems thrive.
Whether youth in your program want to delve into oceanography, adventure into arctic and alpine ecosystems, explore green jobs, or develop their own conservation skills, you'll find the activities, educator guides and videos to match their interests. Nature Lab materials, designed for young people in grades K-12, are now available in English and Spanish and soon will be offered in other languages as well.
The Nature Conservancy is a global environmental nonprofit working to create a world where people and nature can thrive. Nature Lab is intended to share the places, science and conservation stories of The Nature Conservancy with the next generation, with a focus on helping students connect what they see on the screen to actions they can take in their own neighborhood. Nature Lab brings engaging conservation education to students of all ages and backgrounds—online, for free.
Mizzen by Mott partners with the OST community to provide high-quality resources and experiences for youth-serving professionals that spark curiosity, joy, and a love of learning in children and youth. Supported by the Charles Stewart Mott Foundation, Mizzen is available at no cost to those who are empowering young learners everywhere.
"Mizzen is honored to be partnering with The Nature Conservancy to share their innovative conservation approaches and learning resources with the out-of-school time community. Our hope is the collaboration will inspire the next generation of conservationists to cultivate real-world solutions not only for their families but for all communities." — Angelina Garner, Mizzen by Mott Vice President of Strategic Partnerships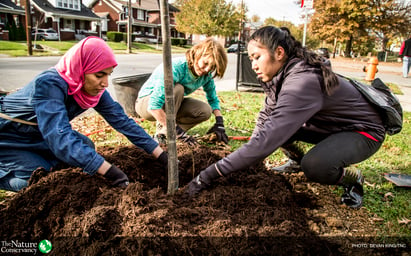 "The goal of Nature Lab is to empower young learners to confront the urgent and complex challenges facing the planet. We're excited to leverage technology to do this and to connect so many students to the wonder and power of nature." – Ximena Marquez, Associate Director of Education and Outreach, The Nature Conservancy
Starting now, out-of-school time educators will have access to:
"We are looking forward to the Nature Conservancy joining the Mizzen community. Through our partnership, their new modules will deliver key learning resource for young people to connect with science and conservation experiences that span from local to global." — Sarah Mellon, Mizzen by Mott Manager of Resource Innovation

"We must provide all young people with the agency and tools to take action for nature. One essential role TNC can play is to elevate diverse youth voices on the global stage, ensuring they communicate their insistence for change." — Kate Ireland, Director of Youth Engagement, The Nature Conservancy
Today, more than 4 million people access Nature Lab's educational content. Through our new collaboration, out-of-school time practitioners everywhere will have access to TNC resources, alongside a constellation of more than 1,600 pieces of high-quality science, math, music, art, literacy, fitness, and youth entrepreneurship content in Mizzen.
Why wait? Visit the Mizzen platform to explore this new curriculum now!