Jazzin' Up Out-of-School with Mizzen Makers
During a recent conversation with our Mizzen Makers, we explored the power of integrating Jazz education into out-of-school spaces.
As our Makers reflected on the power of music education, Tim shared how jazz taught him the art of dialogue, saying, "Jazz is conversation. And it can be two conflicting things and still come together." Clay also explained, "How we communicate is so much more than just like the actual words we're using. It's how you say it and how it feels when you say it. I love watching videos of people playing jazz - they always look at each other, like they can't really resist.. they sort of don't have to, they could just listen, but it really shows that how we communicate is so much more than just like the actual words we're using". When reflecting on how Jazz impacts how her youth interact, Jackie shared, "In jazz there is a give and a take, so it really made me see that it could help children work together better. We have a lot of children that struggle with doing projects together. One wants to control, one doesn't want to do anything. One wants to, but they're shy. It's very hard to get them to work together. So I think teaching the tenants of jazz music helps them do that a little bit better without them feeling like there's a demand on them."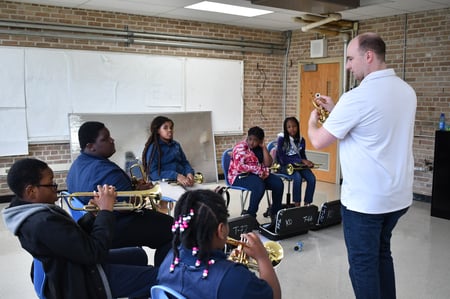 Mizzen Maker Ambassador Nolan with the Kids' Orchestra program in Baton Rouge, LA.
Our Makers agreed that while an important tool for learning communication, jazz can also be used to connect young people to their cultural heritage and spark creativity. Emily shared how jazz helps her youth understand the cultural context of music. "We talked about culture and music, and how different music [shows] up in different cultures and environments...getting to see why culturally, people do the things that they do, based on their environments is something that they've definitely learned through learning about jazz."
Sam emphasized the importance of culturally relevant teaching and the role of jazz in Louisiana's culture. "Seeing and hearing their own cultures and who they are represented in the music...we really work to make sure that young people and their families are staying connected to some of the musical culture and history of Louisiana...any chance we can bring that experience to them here, it connects them to something important to the state's culture." By learning about the cultural importance of Mardi Gras and second-line parades, youth can gain a deeper understanding of the significance of jazz in Louisiana's history.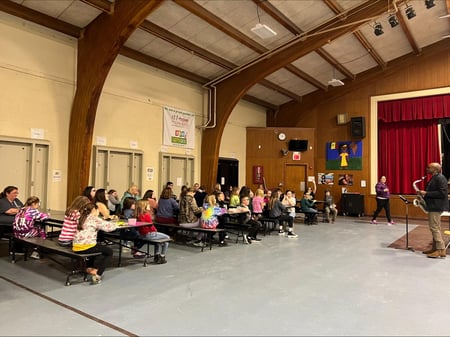 Mizzen Maker Ambassador Jaqueline from the REACH Afterschool Program in Skowhegan, ME hosts native Boston musician Gregory Groover Jr.
Clay further built upon the importance of music education in culturally relevant teaching by sharing about the importance of recognizing jazz for its role in African American history. "We are always thinking about how to culturally work in what we want to communicate to our students. I do a lot of teaching around hip hop. And it's a very easy point of connection for students. And it's interesting with jazz, like, a lot of them just are not super aware of that history. And it's just such a valuable opportunity to not only connect with them over the immediate music but help them connect to themselves through this super interesting, rich, important history. So I think that's a huge value to my program, and probably the only program here in Detroit."
To incorporate jazz into various activities with youth, the group suggests a range of ideas, from interactive group activities to educational tools like books and music:
Tim suggests a call-and-response time based on jazz improvisation, where children express their feelings, and everyone responds with positive affirmations.
Sam uses children's books that focus on different styles of jazz and musical figures to connect with children, spark creativity, and understanding.
When completing the "Jamming With Musicians" lesson from Jazz at Lincoln Center, bring in a musician if you can.
As Emily shared, "

having musicians play for kids is so important because it could open up a different world for them. And that 100% happened to me -I remember it like it was yesterday. I was in fifth grade in my elementary school, and the middle school band had come to perform a song. I don't even think they were probably that great. But as a fifth grader, I was like, Oh my gosh, this is so cool, and I decided to go into band. When I look back at life-changing moments, that was a life changing moment for me. Had I have not had that experience I might not have gone into band and I might not have met some of the best mentors of my life. It shaped who I am as a person."
In June 2022, Mizzen invited 10 out-of-school time practitioners to New York for two days of community, learning, and hands-on experience with Jazz at Lincoln Center.
Jazz is more than a genre of music; it's a conversation, a form of communication that moves beyond words and crosses cultural boundaries; a unique art form that emphasizes the importance of collaboration, improvisation, and emotional expression. Incorporating jazz into various activities, regardless of your experience level, with youth can enhance their experiences, promote emotional expression, and help them connect with their communities. By valuing and promoting jazz, we can inspire the next generation of musicians and advocates. If you're ready to start, we encourage you to explore Jazz at Lincoln Center's first module on Mizzen.