Q&A with Rachel Kessler, Oregon Afterschool and Summer for Kids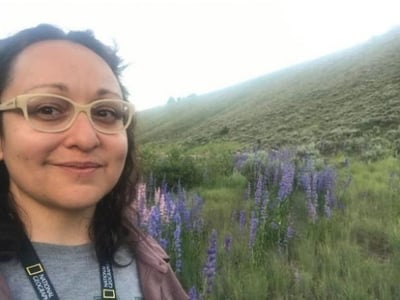 Warmer weather in summer and fall offers many opportunities to create fun, inspiring learning experiences in the great outdoors. We caught up with Rachel Kessler, a learning design coordinator with Oregon Afterschool and Summer for Kids, to find out why outdoor activities are especially important this year, which projects are her favorites and how learning outside fosters youth leadership. Rachel is an educator as well as a professional artist who is passionate about outdoor learning. In her work at OregonASK, she's been involved in contributing content to Mizzen by Mott since the app's inception.
Q: Why are outdoor learning experiences so important for kids, especially now?
There are countless reasons why getting outside is more important and inspiring now than ever. For starters, we've all been cooped up indoors for most of the last year and learning for all of us has mostly taken place on a device.
Afterschool is all about not only learning and getting inspired, but also getting creative about where and how we experience our world beyond a classroom. Getting outside is a great way to use all of your senses and observe the world and yourself in an open and mindful way.
Hands-on outside experiences can also build relevance — the quickest path to authentic youth voice — as youth engage with the world on their own terms and help to develop the direction of projects. Plus, getting outside is fun!
Q: Can outdoor learning happen anywhere? What places and spaces work best?
Outdoor learning can take place anywhere, in rural or urban areas, close to home or somewhere completely new. Bring groups to local parks, to the schoolyard or into the neighborhood around your program's site — any of these will work beautifully. Just be sure to follow all the guidelines for keeping young people healthy and safe.
Mizzen offers STEM, art, and leadership activities that can work anywhere at all, as long as there is something to observe.
Q: What art and STEM activities in Mizzen can afterschool programs use to engage students in learning outdoors and nurture wellbeing and social and emotional learning?
There are a number of activities that OregonASK created specifically for outdoor learning, or that can be easily adapted for these settings. A few of these that spring to mind are: "Building a Mini Greenhouse," "Engineering a Tetrahedron Kit" and "Engineering Paper Airplanes."
Activities like "Alexander Calder – Wire Sculpture" by YouthQuest and "Creativity & Play: This is Not…" by VentureLab are great and can be done inside or outdoors. These projects really lend themselves to teamwork and building and testing designs outside.
Q: What are some other outdoor learning projects that you recommend?
The science notebook module of activities in Mizzen from the California Academy of Sciences is a great start. These lessons show how and why scientists make observations of animals, insects and weather and how to use a simple activity to get out and collect data, which can be done in almost any format and repeated without ever getting boring.
We find that longer-term, project-based approaches to these activities can lead to amazing science inquiries. Science notebooking, which includes drawing and observation, can also be easily integrated into STEAM — STEM plus arts — programming.
Q: With summer and fall just around the corner, how can programs gear up to incorporate outdoor learning in ongoing ways?
Mizzen has some great Pro Tips about planning scientific investigations, harnessing curiosity, and even strategies for peer-to-peer notebook sharing from California Academy of Sciences that will prepare facilitators to get creative with their outdoor STEAM exploration with youth.
Q: In this blog, we like to share best practices as well as ideas about how practitioners can recharge their own energies. What helps you?
Programs have a direct influence on what it means for youth and families to feel safe, have fun and get inspired about life. Sharing that with youth every day is something that afterschool providers do better than anyone else. In this time, we're finding that having a great time means everything. Take a deep breath and know that you are the best part of the day for all of the kids you work with, and that your creativity, flexibility and strength make the world a better place.
---
Are you expanding your afterschool and summer programming this year to foster student recovery? In addition to the activities and Pro Tips mentioned above, you'll find modules of activities from OregonASK in Mizzen that you can use to plan lessons for a program, a summer camp or a whole season. These include:
Making Comics (language arts and literacy, 7-10 hours, grades 3-12)
Seven basic lessons for students to explore how comics are made while learning about storytelling, character, setting, action and plot.
Make it Move Invention Camp (STEM, 15 hours and 45 minutes, grades 6-8)
This curriculum explores transportation, vehicles and mechanical things that move. The series ends with the creation of an invention that improves quality of life.
Amazing Bodies Invention Camp (STEM, 15 hours, grades 6-8)
This curriculum explores the human body and creative ways to improve quality of life. The module includes hands-on exploration leading up to the invention process where prototypes are created and shared.

S.INQ Mechanical Engineering (STEM, 4 hours, grades 1-5)
A set of lessons that prepare teachers to explore mechanical engineering with their students using engineering design grids and simple materials like cardboard and rubber bands.