Coming to BOOST? Join Mizzen and the Pulitzer Center, PBS NewsHour SRL, Jazz at Lincoln Center and our newest content partners!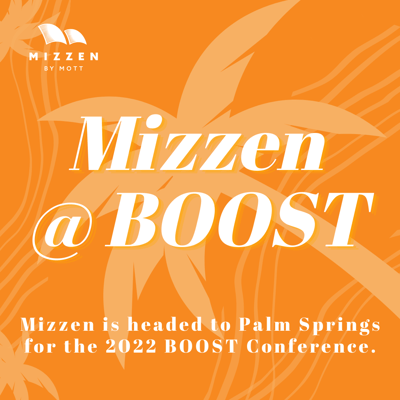 Will you be at this year's BOOST conference in Palm Springs on April 26 - 29? We have a fantastic lineup in store for you. You'll find sessions on creating makerspaces; melding jazz, art and history curricula with STEM; sparking student storytelling and journalism; and infusing human-centered design into professional development and evaluation.
Our content partners, are bringing an array of exciting experiential workshops. Stop by and see us anytime at Mizzen HQ (BOOTH #0102) to talk, tinker, and design with us, or strategize about program content for summer and fall.
Here's a sneak preview!

I'm Beginning to See the Light: Leveraging Enriching Afterschool Content with Jazz at Lincoln Center
Wednesday, April 27 at 2:45 p.m.
Seton Hawkins is passionate about music, and learning. The director of Public Programs and Education Resources at Jazz at Lincoln Center, Hawkins co-led an enormously popular workshop at BOOST last year. He returns this year to share JALC's one-of-a-kind jazz curriculum created exclusively for Mizzen. Join Hawkins for a toe-tapping session, packed with kid-tested and kid-approved content and new ways to engage young people in music, history, dance, science and more. No music background? No problem. Join us!
PBS NewsHour Student Reporting Labs: Media-Making for Middle and High School
Thursday, April 28 at 10 a.m.
The late Joan Didion once said, "We tell ourselves stories in order to live." Student Reporting Lab's national journalism program by PBS NewsHour proves the point. Come meet youth media producer Mohammad Pasha and learn how SRL's ground-breaking content in Mizzen gives educators and students the tools to uplift stories that matter to themselves and their communities. With a background in media arts instruction and mentoring, Pasah has created programs for high school students in video, studio design and documentary. In his workshop, you'll discover how you can bring SRL to your out-of-school-time program. Don't miss it!
The 1619 Project: Engaging with Racial Justice in Afterschool Spaces
Thursday, April 28 at 3:45 p.m.
Flying in from Chicago, Sushmita Jaya Mukherjee is an education coordinator with the Pulitzer Center on Crisis Reporting. Mukherjee, who began her career as a special education teacher in Compton, California, has a background in education, creative writing and film theory. In her interactive workshop, we'll explore The 1619 Project and engage with student-centered activities on cultural identity and national memory. Join us and imagine what is possible when we highlight underrepresented histories.
This is How We Do It: Putting the Human First
Friday, April 29 9:15 a.m.
In the rush and clatter of things, do you ever feel like the actual human beings at the heart of afterschool and summer programs become an afterthought? You're not going to want to miss this session. Join social entrepreneur, educator, activist and acclaimed speaker Kwamara Thompson with Thompson Education Consulting/TEC, LLC/Be Human, for a session on creating human-centered content, curricula, professional development and evaluation. You'll leave with an action plan for including the voices of all stakeholders — students, staff, and the community.
And there's more. We're delighted to share a very special announcement about two of our newest content partners. In from the L.A. area — ReDiscover Center and !Mpact Players — are set to premiere their Mizzen content at BOOST.
ReDiscover Center
There is no single word that captures the spirit of ReDiscover Center more than creativity. The brainchild of 25 education-focused groups in the Los Angeles Area, ReDiscover develops children's creativity through hands-on making with sustainable materials. The nonprofit launched in 2003, and today it regularly serves 11,000 young people ages 2-18. To keep kids connected to creative learning during the pandemic, reDiscover took to the streets with a popup makerspace that engaged more than 16,000 visitors. Come meet reDiscover's Hanabee Cartagena and learn how to infuse maker education into your summer and fall camps and programs. Cartagena, who manages reDiscover's Distance Learning Programs, is a creative artist in mixed media who specializes in community arts engagement. Hanabee Cartagena's experiential workshop, Sustainable Maker Education starts with Experimental Play is on Thursday, April 28 at 1:15 p.m. Join us!
!Mpact Players
Ray Trinidad and Gabe Ogilvie are serious about play, and the power of out-of-school-time learning. If you'll be at BOOST, the co-founders of !Mpact Players can't wait for you to join their high-energy workshop on games and activities for team-building and staff development. !Mpact Players designs and shares games and activities that promote team building, leadership, STEM concepts, art, SEL strategies and inclusion. Grab a pair of comfortable shoes and gear up for a fun, interactive session. You'll come away with tons of new ideas and activities for helping participants connect and build leadership skills.
"As students come back from this trauma, I hope we remind ourselves of the noble and honorable work that we do," said Ray Trinidad. "The most important thing is that more and more students are engaged, do well in school and with attendance, and graduate. Whether it's about teaching a physics concept or telling a dad joke, there's so many tools we can utilize. "People need levity, joy and fun," he adds. "Especially now." !Mpact Players workshop: Action-Packed, Team-Building Games and Activities That Elevate Your Program and Empower Your Staff takes place on Wednesday, April 27 at 10:30 a.m.


Throughout BOOST, stop by Mizzen HQ at BOOTH #0102
Dive into the variety of free, engaging content offered on the Mizzen platform through immersive learning experiences and conversations with the Mizzen team and our content partners. Discover firsthand how the PBS NewsHour Student Reporting Labs curricula empowers young people to uplift stories important to their communities. Explore Pulitzer Center curricula based on the award-winning 1619 Project and student-centered activities highlighting the perspectives and experiences of Black Americans. Test out makerspace activities with ReDiscover Center.