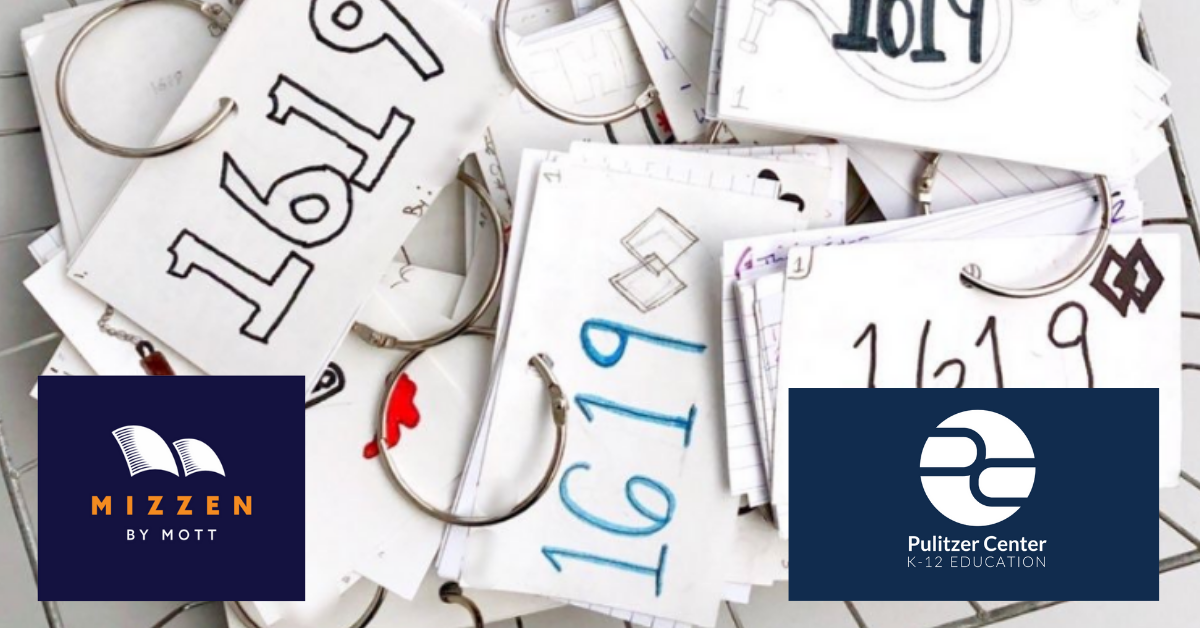 Although the observation of Black history in the U.S. harkens back to 1915, many young people today still don't have a great deal of access to learning about how U.S. history has been shaped by the many experiences and contributions of Black Americans. Black history lessons may focus on singular stories of great men or great women but rarely explore wider contexts or invite students to engage history while building creativity and critical thinking skills.
Resources from the Pulitzer Center education team on The 1619 Project in Mizzen can help you address these gaps. The 1619 Project launched in 2019 with a special issue of The New York Times Magazine, and has since invigorated public discussions about U.S. history, national memory and racial justice. Educators have integrated 1619 materials into their classrooms in every U.S. state. Students have responded passionately by holding lively debates, staging schoolwide events, and creating art, poetry, journalism, and other work inspired by 1619. Through a collaboration with Mizzen, the Center developed resources to support educators who seek to use these materials in the afterschool space.
"We have seen the power of The 1619 Project to uplift, illuminate, and inspire students in classrooms across the country," said Hannah Berk, Education Manager at the Pulitzer Center. "The project highlights undertold histories, celebrates the contributions of Black Americans to every aspect of society, and examines the roots of the long fight for racial justice in the U.S. We hope that our 1619 resources on Mizzen by Mott can help empower students and afterschool educators."
During Black History Month and throughout the year, we invite you to explore Pulitzer Center resources such as:
Introducing The 1619 Project, with a video featuring Nikole Hannah-Jones;
Visualizing the Legacy of Slavery: Gallery Walk and Quote Museum; and
Reclaiming Narratives: Creative Accounts of Black History; Freedom, Resistance, and Genius in Black American Music.
Each activity includes background readings and supplementary materials to help you bring lessons to life through rich conversations and hands-on projects. Here's a link to the full Pulitzer Center playlist.
Soon you'll also find Pro Tips in Mizzen from the Pulitzer Center education team. And, there's still time to join the Pulitzer Center's afterschool networking cohort, a peer group for learning together, sharing ideas, and implementing 1619 activities with students this spring. Participants will have the opportunity to showcase their students' creative responses to 1619 in a virtual symposium at the end of the school year. Learn more here and fill out the interest form by March 1!
"When we first shared our plans to feature 1619 Project content in partnership with the Pulitzer Center, there was genuine excitement from educators and an eagerness to bring this work to the afterschool field," said Carlos Santini, CEO of Mizzen by Mott. "The team at Pulitzer keeps iterating and innovating on their resources to meet the evolving needs of educators and youth."
---
Last but not least: Save the date! Educators are invited to join the Pulitzer Center for the 1619 Education Conference, which takes place on February 19 - 20, 2022. The conference will offer the opportunity to learn from members of the Pulitzer Center's 1619 Education Network, meet contributors to The 1619 Project and learn about more opportunities for teaching and engaging with The 1619 Project.