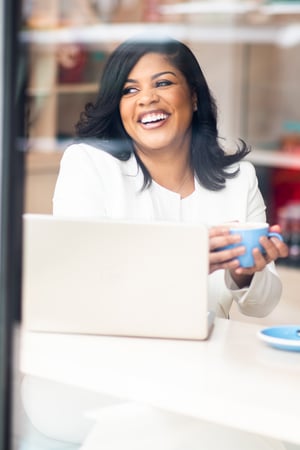 As youth development professionals our focus is often solely on the development of the whole child. In our dedication to this important work, we tend to neglect something just as essential, the development of the whole adult. In order to be of the highest and best service to our young people, it is imperative that we have an opportunity to plan for, prioritize and practice our own care.
As part of Mizzen's focus on mindfulness and young people's social and emotional learning, I'm delighted to share five tips. Drawn from my work in mindset coaching for adults and youth development, these tips lend themselves to supporting your self-care as an adult and can apply to your work with young people.
Get Grounded in Your Day
When we think about mindfulness, we often picture perfect little images such as sitting alone with our legs crossed and our eyes closed under a tree. Mindfulness is so much more than that. Sometimes the seemingly simple act of sitting still can feel overwhelming so this tip is obvious, practical and a little non-traditional.
Begin by asking yourself:
"How do I get present and grounded in my day today?"
Then, take the moment to mentally walk through your agenda and schedule for the day. For some, this form of visualization may be enough, but you can take it to another level by writing out your schedule hour by hour, being certain to schedule in breaks or buffers between meetings. With young people, this might take the form of walking through the day, lesson or project and posting it on a slide, handout or whiteboard that they can refer back to.
When times are so uncertain and you don't know what tragedy will appear in the news next, taking things one day, one hour or one minute at a time can center us, reduce anxiety and prepare us for the day ahead.
"Meditation is a Meeting with Yourself"
This is a quote from award-winning storyteller, podcaster and former monk, Jay Shetty. It's a simple and profound idea. Adults and youth need time to reflect and recharge. How might you make space for autonomous or self-directed time? This could look like setting aside five minutes to take a nap, read a book or go for a walk. Building in time for yourself and providing opportunities for youth to engage in independent reflection, journaling or drawing are small things that can make a world of difference.
To Listen is an Action
Begin to notice your participation in conversations when you are not the one who is speaking. Are you listening actively, thinking about what you are going to say next or focused on something completely unrelated such as the next item on your to do list? Practice being fully present in every exchange. Use silence, eye contact and other non-verbal cues not only to let the other person know that they are being seen and heard, but to give your mind a rest. Truly attend to the conversation you're in while you're in it.
Discover Open-Ended Questions
The types of questions we ask determine the quality and depth of our connection during communication. Be more intentional about asking questions that do not call for one-word, right or wrong, or yes or no answers. Ask questions in a way that sparks deeper thoughts, opinions and inner inquiry, then pause to stick around and truly hear the answers.
This is particularly important during challenging times such as what we've been experiencing over the past year. Instead of jumping right into tasks or agenda items, begin meetings by asking:
"How are you as a human?"
No matter how much we try to compartmentalize, we all bring our whole selves everywhere we go. This means that sometimes we need that space to share what's on our minds to be able to show up and be fully present in the moment.
Find Flow
Asking open-ended questions leads people to explore and share what really matters most. When people share things that they are deeply interested in, they get into a state of flow. Flow is a state in which you feel fully immersed and highly competent. This provides an opportunity to tap into young people's and adults' deepest motivations. Activating our intrinsic motivation in this way leads to sustained and authentic engagement. Youth and adults are now doing things because they truly want to, not solely based on the manipulation that is often associated with external factors such as grades, empty verbal praise or other rewards.


The rise in popularity of self-care and mindfulness has made it trendy and thus it is often connected to things that cost money. These simple and accessible strategies are all ones that can be cultivated by paying nothing more than a little extra attention to how we care for and connect with ourselves and our community.
About Monica Marie Jones
Monica Marie Jones is a national trainer, field consultant and coach for the David P. Weikart Center for Youth Program Quality (a division of The Forum for Youth Investment) as well as the senior quality advisor for The Youth Development Resource Center in her hometown, Detroit, Michigan. Her experience includes designing professional development content in the areas of positive youth development, social and emotional learning, trauma-informed care, restorative practices, organizational development and personal development. Monica has also worked as a coach with the Youth Driven Spaces Immersion Program for the Neutral Zone Teen Center in Ann Arbor, Michigan and as an out of school time intermediary coach for the Wallace Foundation's Partnership for Social and Emotional Learning Initiative. Her early career included work as a school-day teacher and an after-school program director.
Mindfulness

and SEL

activities

in Mizzen by Mott:
SuperMe! (grades K-5) by OregonAsk

Educating Myself for Peace of Mind (grades 3-12) by kid-grit

Would You Rather? (grades 6-12) by After-School All-Stars

Relaxing Yoga, Games and Mindfulness (grades 9-12) by Mott Afterschool App, LLC