Behind the Scenes: Meet the Marvelous Minds on Mizzen's Board!
Hey there, amazing Mizzen Education members, and welcome to the party behind the scenes!
Today, we're pulling back the curtain to introduce you to more incredible brains and hearts supporting Mizzen Education. Our Board of Directors is full of powerhouses, visionaries, and champions of youth education who make magic happen every day. So, grab your virtual party hats, and let's dive into the world of our fun-loving and super-smart board members! 🎊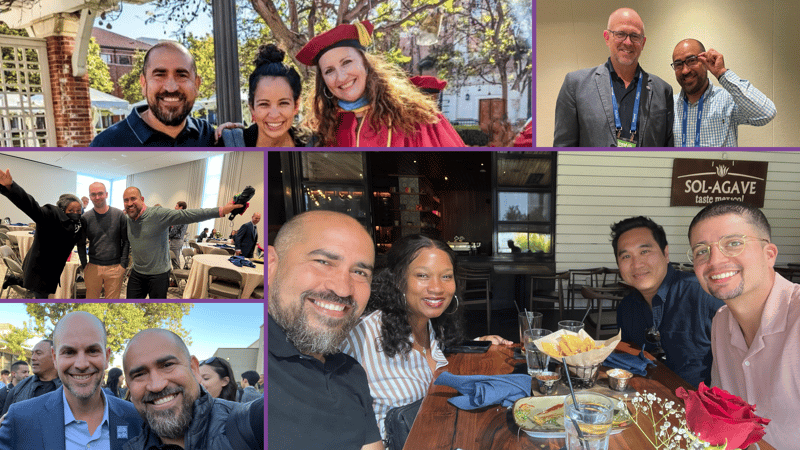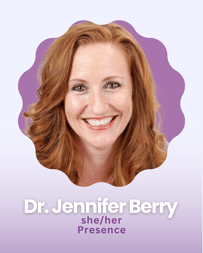 ✨ Jennifer Berry (she/her), Chief Operating Officer at Presence
Meet Dr. Jennifer Berry, a dynamo of the education world! With over 30 years of experience, she's an education industry operations leader. Jennifer's the COO of Presence, where they're all about empowering those who champion children with diverse needs using cool education tech and direct services.
But wait, there's more! Before her Presence journey, Jennifer was the COO of After-School All-Stars, and she served at Quantum Learning Network, a national educator and student program outfit. She even dabbled in sales and general operations as the Vice President at SCORE!, Kaplan Test Prep, and Kaplan Bar Review. With 15 years of experience in top-notch retail, she's got the perfect recipe for success, which she sprinkles everywhere she goes. She's also got a Doctorate in Education from the University of Southern California, which just adds to her coolness.
But Jennifer's not all work; she's a board member for all things education and arts, including West Valley Playhouse and the super-awesome Mizzen Education, Inc. When she's not working to shape the future of education, you'll find Jennifer living the good life in sunny San Diego with her wife and their awesome daughter.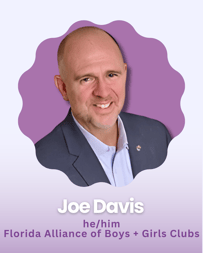 ✨ Joe Davis (he/him), Executive Director for the Florida Alliance of Boys & Girls Clubs
Joe Davis has served as the Executive Director of the Florida Alliance of Boys & Girls Clubs since 2019. He's all about championing high-quality afterschool programs for Florida's youth, and he's been doing it for nearly three decades! Joe's a pro at securing resources, and during his tenure, his organization has wrangled over $50 million from the Florida Legislature and he and his staff have helped secure an impressive $31 million in federal afterschool funding for the Alliance's membership organizations.
But Joe's not just about work; he's a champion for youth and families in his community and throughout the state. He's been a founding board member of Mizzen; Executive Director of the Florida Afterschool Network; as well as serving in several other roles in education, health, and children's advocacy. When he's not fighting for afterschool programs, Joe enjoys the great outdoors, exploring new places with his wife, Elle, and cherishing quality time with family.
*Joe serves as Mizzen Education's Board Secretary.
✨ Benita Melton (she/her), Program Director for Education at the Charles Stewart Mott Foundation
Benita Melton, the director at the Mott Foundation's Education program, has been shaping change for nearly three decades! She joined the Mott family back in '95, starting as an associate program officer, then the program officer title in 2000, and ultimately becoming the program director in 2015.
A finance whiz, Benita is passionate about federal and state budget and tax policy issues. Plus, she's led strategies that help low- and moderate-income families save money and build assets. And did we mention she's a proud Michigan native and a graduate of the fantastic Michigan State University? Go Spartans!
When she's not changing the world, you might catch Benita hiking up hills and mountains where she's earned the "mountain goat" nickname, adding to her top-notch CD collection or serving as the local movie critic, watching and commenting on the latest big-screen flicks! She's also an active player in grantmaker affinity groups and serves on the Fair Food Network board. Benita's all about the action and impact!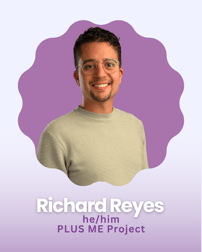 ✨ Richard Reyes (he/him), Executive Director at PLUS ME Project
Meet the one and only Richard Reyes, the Chief Storyteller and Captain of Fun at the PLUS ME Project! Armed with a degree in Critical Theory & Social Justice from Occidental College and a master's in Educational Foundations from Cal State LA, he's not your everyday education enthusiast. Richard is on a mission as a social justice champion, and he's all about those incredible life stories. He's a proud advocate for the belief that every tale is worth telling.
But he doesn't stop there! Richard's shared his own journey from being the first college graduate in his family with a whopping 150,000 students all across the country. He's the ultimate storyteller, entrepreneur, and the brains behind PLUS ME.
His passion? Connecting with others through the power of stories and giving a boost of confidence to young minds from low-income communities. He's all about helping them chase their dreams, whether they're college-bound, career-focused, or just living their best lives. Outside of his amazing work, you can find Richard on the tennis courts, cheering for the Dodgers, or enjoying a brownie and chai tea!
✨ Carlos Santini (he/him), Chief Executive Officer at Mizzen Education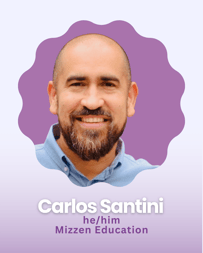 Carlos Santini, Mizzen's CEO, is on a mission to enhance the quality of out-of-school-time programs for young minds all across the USA. With a passion for youth development dating back to his days at the University of California, Los Angeles, Carlos has been a driving force in the field since 2002.
Through collaborations with school districts, foundations, corporations, and community leaders, he's been instrumental in expanding and improving OST opportunities for youth. Carlos's journey began with the After-School All-Stars Los Angeles serving in many roles from admin assistant to interim executive director before he assumed responsibilities as the Executive Vice President of Programs for the national office of After-School All-Stars. He joined Team Mizzen in 2021.
Carlos immigrated from Honduras at age 7 and credits his experience as an English language learner for paving his path in education. Married to Alejandra, a dedicated elementary school teacher and former nonprofit executive, Carlos is a proud father of two daughters. He spends his free time cycling through the Santa Monica Mountains, hanging with his dog, DJ, and whipping up creations in his kitchen.
*Carlos serves as Mizzen Education's Board Chair.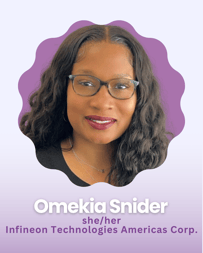 ✨ Omekia Snider (she/her), Vice President Tax, Americas at Infineon Technologies Americas Corp.
Introducing Omekia Snider, a number-crunching wizard with a side of adventure! A Tax Dynamo for the Americas Region at Infineon Technologies Americas Corporation, her mission is to rock tax planning and strategy, wrangle government funds, and master global taxes for a conglomerate that includes legacy companies like International Rectifier Corp and Cypress Corporation.
But that's not all – when she's not conquering the tax world, Omekia is a Board Member at the Global Business Alliance, fighting for equal protection in the US for global investment. With over two decades of experience, she's more than just resourceful; she's an innovative pro, juggling the accounting lifecycle, taxation, compliance, finance, audit, and consulting for mega corporations.
But here's the best part: Omekia's not all business. She's a true superhero for the youth, partnering with nonprofits like St. Jude's, Bridge Builders Foundation, and our very own Mizzen Foundation. She credits her children for fueling her passion to be more involved in her communities. You'll also find her enjoying a slice of red velvet cake and Coke Zero while rooting for her Los Angeles Rams. She's all about making the world a better place, one calculation at a time!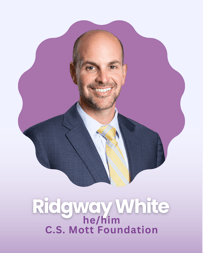 ✨ Ridgway White (he/him), President and Chief Executive Officer at the Charles Stewart Mott Foundation
Meet Ridgway White, the President and CEO at the C.S. Mott Foundation. As President since 2015, he's been at the forefront of making things happen. When the Flint water crisis hit, Ridgway wasted no time, spearheading a $4 million grant to reconnect the city to clean water and kickstart the recovery journey. He's all about making waves, leading Mott's commitment of over $100 million to help Flint rise from the crisis in just over four years. He believes in the power of community foundations to ignite positive change both locally and globally.
Ridgway's not just a leader; he's a doer. He was one of the masterminds behind Mizzen by Mott (now Mizzen Education) in response to a need for high-quality, free resources for the out-of-school-time space. In his previous Mott Foundation work, he oversaw the development of more than 1 million square feet of vibrant spaces, sparking the creation of the Flint Health and Wellness District and two schools in Flint, creating a top-notch campus for the Michigan School for the Deaf and Powers Catholic High School in a spirit of social entrepreneurship.
Ridgway is a graduate of Hobart College where he studied architecture, economics and urban planning and serves on various boards, including U.S. Sugar, Council of Michigan Foundations, Detroit Regional Partnership, and many more. He's a mover and shaker in the for profit and non-profit worlds and in his personal life. He loves to spend his time outdoor adventuring with mountain biking, rock climbing, and skiing.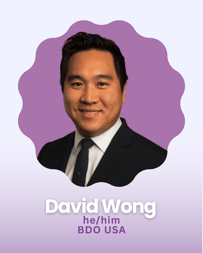 ✨ David Wong (he/him), Principal & National Practice Leader, Business Incentives Group at BDO USA, LLP
Meet David Wong, a BDO Business Incentives expert! With nearly two decades of expertise, he's the go-to guy for optimizing tax credits and incentives that boost cash flow and encourage research and development and capital investments in the US.
David has a range of experience helping both large and small companies and has worked with companies ranging from the development stage to those with over $20 billion in revenues. He works with start-ups, private equity portfolio companies, and public companies to develop strategies that increase cash and EBITDA through tax credits and incentives available to businesses. These programs are designed to create jobs and encourage innovation in the US, as well as attract US investments in manufacturing, software, life sciences, and renewable energy projects.
David's not just about the numbers though; he loves to spend his non-work time hiking outdoors, cycling, snowboarding, golfing, restoring his vintage motorcycles, and cheering for Dallas sports teams.
*David serves as Mizzen Education's Board Treasurer.
So, there you have it, the marvelous minds of Mizzen's board that help keep Mizzen Education's engine running! With their passion, expertise, and a dash of fun, they're helping Team Mizzen towards a future where every young learner can experience of the magic of experiential learning. Stay tuned for more exciting updates, adventures, and insights from the world of Mizzen Education. 🌠📚🎉